We are one of Finland's biggest energy companies. Our share of the electricity produced in Finland is approximately one fifth. We produce energy for our customers, Finnish industrial and energy companies. Already 97 per cent of our electricity production is carbon-neutral. And we don't stop there.
Finnish electricity and heat
We have 18 power plants in which we generate about a fifth of all the electricity produced in Finland, as well as process steam for industries and district heat for communities. Thanks to hydropower, biopower and nuclear power, the electricity we generate is almost carbon-neutral. We are determined to achieve the same goal in heat production.
Responsible energy generation
We are aiming to become carbon-neutral based on market terms. Where electricity is concerned, we've come a long way – but that isn't good enough for us. We aim at 99% carbon neutral electricity production and 85% carbon neutral heat production in 2025. We have reduced our emissions through investment and fuel choices. We work relentlessly to mitigate the environmental impacts from hydropower.
About us
We are a Finnish company that is 80 years old. We have made bold decisions and looked ahead throughout our existence. In our field, we are a responsible operator whose professional views and expertise are highly valued. We take good care of our people's expertise, and our mutual goal is to develop our operations and business culture. Our work matters, and that's something we're proud of.
For investors
We are an non-listed public limited liability company. Our shareholders are also our customers: a wide range of Finnish industrial and energy companies, for whom we produce electricity and heat at cost price. Under the For investors section, you can find our stock exchange releases, key performance indicators, financial publications and information about administration and financing. We have unsecured bonds listed on the Nasdaq Helsinki stock exchange list.
Pohjolan Voima's Annual Report 2022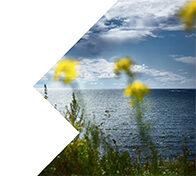 The Annual Report includes an overview on the company's operations, Corporate Governance Statement, Report of the Board of Directors and Financial Statements for the period 1 January – 31 December 2022.
Pohjolan Voima Oyj's January - June half-year financial report 2023
Pohjolan Voima's electrcity and heat production continued at the normal level. During January – June 2023 Pohjolan Voima's total electricity supply amounted to 8.0 (6.3) TWh and heat supply was 1.7 (2.0) TWh.