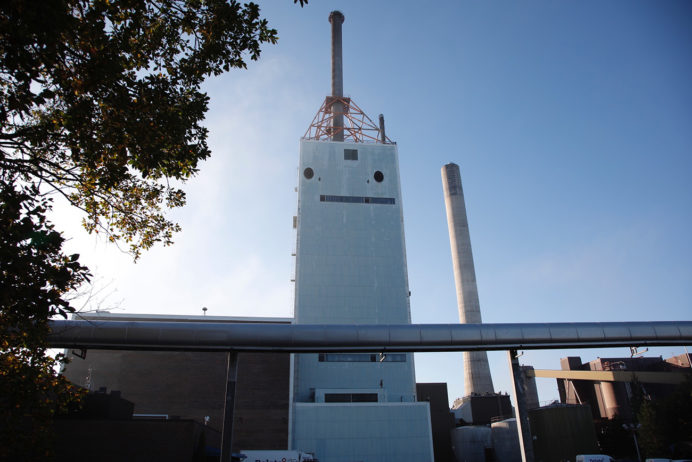 The tallest smokestack in Finland, located in the power plant area of PVO-Lämpövoima Oy in Kristiinankaupunki, will be demolished on Thursday, 1 October 2020. Closed in 2015, the power plant was Pohjolan Voima's last solely electricity generating so called condensing power plant. Decommissioning the condensing power plants that used coal and oil as their fuels has been an important step for the company towards CO2 neutral energy production.
"Demolishing of the power plant's smokestack that was built in 1983 is not only an enormous change to the townscape, but also the final seal for the end of a production method. The falling of the almost 160-metre smokestack symbolises the major change taking place in the energy industry and a determined shift towards low emission energy production. Pohjolan Voima and PVO-Lämpövoima have been trailblazers in this work," says Ilkka Tykkyläinen, the President and CEO of Pohjolan Voima Oyj.
The coal- and oil-fired power plant was closed in 2015 due to unprofitability. Demolition of the plant buildings surrounding the smokestack started in June 2020. The demolition work will be completed by the end of 2021.
Abandoning condensing power plants is an important step for Pohjolan Voima in its path towards CO2 neutral production. Pohjolan Voima produces almost 20% of all the electricity in Finland, of which almost 95% is already CO2 neutral.
Pohjolan Voima's goal is for 99% of our electricity production to be CO2 neutral by 2025. Another goal is increasing the share of CO2 neutral heat production to 85% by 2025.
Availability of secure energy must be ensured
Before the demolition of the Kristiinankaupunki power plant, PVO-Lämpövoima already demolished a coal-fired power plant at Tahkoluoto in Pori. That plant dated back to 1976. Electricity production at the Tahkoluoto and Kristiinankaupunki power plants was deemed unprofitable and discontinued in June 2015. A power plant in Mussalo, which used natural gas and coal as its fuels, was demolished the same year.
"The demolition of the Kristiinankaupunki and Tahkoluoto power plants eliminated a total of 687 megawatts of condensing power capacity. Capacity of the Mussalo power plant was 313 megawatts. Condensing power plants have also played a major role in the balancing of electricity demand," says Petri Hurri, the Managing Director of PVO-Lämpövoima.
"The Finnish electricity system has experienced significant changes in the past few years. In the current situation where the share of production dependent on weather conditions has steadily increased, it is important to ensure that we have reliable and competitive energy at our disposal at all times. Under these conditions, Finnish hydropower, the most notable electricity system balancer and a reliable source of energy, becomes even more significant. The Finnish electricity system cannot cope without regulating hydropower," says Ilkka Tykkyläinen.
He remarks that hydropower provides up to 70% of the regulating power that balances out the daily production and consumption of electricity. Nearly half of all Finland's renewable electricity is produced with hydropower.
"Regulating hydropower enables the increasing of weather-dependent production and assists Finland in achieving its climate targets," says Tykkyläinen.
Additional information:
Ilkka Tykkyläinen, President and CEO, Pohjolan Voima Oyj, tel. +358 (0)40 670 6056
Petri Hurri, Managing Director, PVO-Lämpövoima Oy, tel. +358 (0)50 3133 383
Photo: The Kristiinankaupunki power plant before the demolition of the smokestack.
Photo: Kai Tirkkonen.