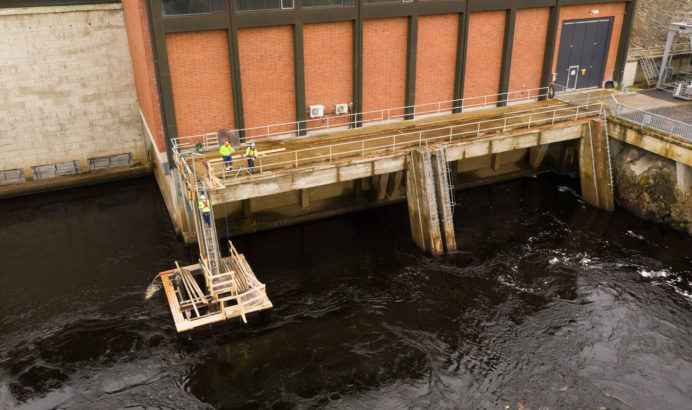 The caisson innovation designed by PVO-Vesivoima's specialists saves effort and money when repairing hydropower plants. The innovators received Pohjolan Voima's initiative award for their idea.
Performing concrete repair work while remaining dry. This is what the new pillar repair method developed by PVO-Vesivoima's specialists is practically all about.
Asset management specialists Pasi Eilola and Matti Åman had the idea to apply the technique used elsewhere to hydropower plants. As a result, they developed a replicable repair technique, which accelerates repair work, brings cost savings and shortens the shutdown times of hydropower plants to a couple of hours. Previously, repairs were made by diving, but now it is possible to remain dry thanks to a caisson. The new technique improves quality and occupational safety, and it is possible to do repairs in winter too. Thanks to the caisson method, power plants can continue producing electricity during repair work.
"These kinds of innovations are made when experts, who are able to look at the big picture, cooperate and start solving an issue they have identified at work. For us at Pohjolan Voima, it's crucial that our corporate culture promotes innovating and developing our work in the work community," says Tiina Nyström, Executive Vice President, General Counsel & HR Director at Pohjolan Voima.
What is a caisson?
A caisson is a watertight retaining structure. It makes underwater construction possible in dry conditions. The caisson invented by Åman and Eilola is made of two interlocking modules. It is shaped to fit the pillar that is being repaired.
In the caisson, there is enough room for workers, who can make holes with a spike and instal reinforcements and forms for casting. When concrete hardens, the forms are removed and the caisson is lifted off the pillar.
Caissons are commonly used when building piers, for example. However, Åman and Eilola were the first to use them in connection with hydropower plants. For their idea, Eilola and Åman were given Pohjolan Voima's largest initiative award so far.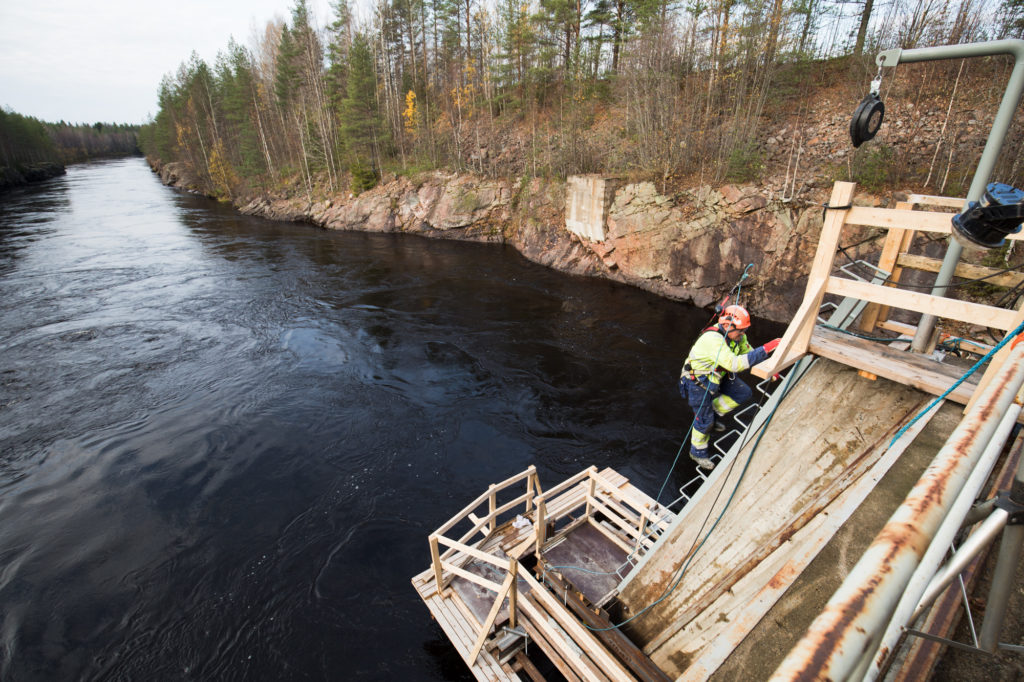 A short interruption of a couple of hours
The specialists' invention will have significant effects. When repair work is carried out by diving, electricity production is disrupted for approximately six weeks. The flow below a hydropower plant is so strong that the plant has to be stopped for safety reasons when doing repairs by diving.
Thanks to the caisson technique, hydropower plants have to shut down only for a couple of hours so that the caisson can be installed.
Åman and Eilola's caisson was tested when repairing PVO-Vesivoima's Kierikki power plant last winter. This autumn, the caisson technique was applied when they carried out repair work at the Haapakoski power plant in Iijoki. The method has proven effective.
"It is possible to use the caisson later for similar purposes. It can be adjusted to fit different kinds of structures, and it can also be used when repairing the upper part of a power plant," says Matti Åman.
Benefits of the caisson method:
Work can be carried out more rapidly at a lower cost.
Production losses will be considerably smaller, because there is no need to have long shutdowns.
The quality will be better when carrying out concrete work dry. In addition, it is easier to check intermediate steps and the outcome of the work.
Occupational safety is also improved when work is no longer performed under water and it is possible to work in winter too.
Further information:
Pasi Eilola, asset management specialist, PVO-Vesivoima Oy, pasi.eilola(at)pvo.fi,
tel. +358 50 3038 657
Matti Åman, asset management specialist, PVO-Vesivoima Oy, matti.aman(at)pvo.fi,
tel. +358 50 3038 621
Photos: Caisson method repair works at the Haapakosksi hydropower plant in the Iijoki river. Photos: Kai Tirkkonen