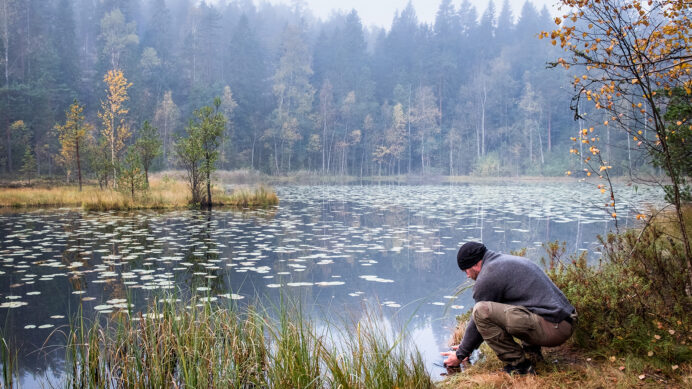 Pohjolan Voima, one of Finland's largest energy companies, has launched a biodiversity programme created in cooperation with important stakeholders, including personnel, owners, and young environmentalists. The aim of the programme is to include biodiversity in all aspects of Pohjolan Voima's operations as another part of sustainability.
"Our strategy now includes biodiversity as a consideration equal to carbon neutrality. The new programme is aimed at producing practical measures and quantifiable results from our efforts to improve biodiversity," says Katja Permanto, Sustainability Manager at Pohjolan Voima.
"Our vision for biodiversity is that we understand our primary impacts on biodiversity and set our course towards a net positive effect. We will improve our skill set and update our targets as we learn more."
Cooperation with stakeholders in 2022 increased the company's understanding of the kinds of information and transparency desired by its stakeholders, as well as their priorities. Derived from the company's strategy, the biodiversity programme is in effect an action plan: it combines the company's previous biodiversity themes and new perspectives into one package for implementation as practical measures. The action plan is one part of Pohjolan Voima's sustainability efforts.
We investigate and develop biodiversity with regard to thermal and hydropower
"In our conversations with stakeholders, we better understood that while many of our current measures were self-evident to us, they were insufficiently visible on the outside. Transparency is an essential part of sustainability, and we will work on improving that as well," says Katja Permanto, who coordinates sustainability at Pohjolan Voima.
For example, Pohjolan Voima has been developing measures for the biological cycle of migratory fish for a long time. The company is committed to the matter and convinced of the effectiveness of extensive cooperation and gradual progress. New data that can both shape new operating methods and help achieve more things is constantly produced by studies.
"We haven't previously viewed the state of riverside land from the perspective of biodiversity, but the programme will include a study of this as well. It will allow us to better understand the impact of our activities and how we can improve our operations with regard to the land of built river systems as well," says Permanto.
The company's measures for thermal power production will aim for sustainable wood-based fuels. One objective is to increase the use of by-products and exploit opportunities created by the circular economy.
Metrics and verifying success are a key part of the biodiversity programme. This requires close cooperation between experts because biodiversity is not always a simple matter. Its metrics are not as clear-cut as those of carbon dioxide emissions, for example.
Pohjolan Voima's job titles were specified in conjunction with the launch of the biodiversity programme. Environmental and Safety Manager Katja Permanto was also appointed Pohjolan Voima's Sustainability Manager in February 2023. She coordinates the company's sustainability efforts and supports its various experts in this context. Permanto reports to Riitta Larnimaa, whose updated title is Executive Vice President of Public Relations and Sustainability. The titles reflect the company highlighting sustainability and better managing the expectations of stakeholders, both aims sharing the objective of supporting sustainable and responsible operations.
Additional information:
Katja Permanto, Sustainability Manager, Pohjolan Voima Oyj, katja.permanto@pvo.fi, tel. +358 50 389 4432
Riitta Larnimaa, Executive Vice President, Public Affairs and Sustainability, Pohjolan Voima Oyj, riitta.larnimaa@pvo.fi, tel. +358 50 438 2466
Pohjolan Voima is a Finnish energy company with 80 years of history. We are one of Finland's largest energy producers – our production accounts for approximately one fifth of the nation's total electricity production. We use hydropower, thermal power and nuclear power to produce energy at cost for our owners, domestic industrial and energy companies. We are working for a carbon-neutral Finland and committed to improving biodiversity. Of the electricity we produce, 97 per cent is already carbon neutral, and we will continue our mission. Our objective is to create decisive power to strengthen competitiveness and contribute to a better tomorrow.
www.pohjolanvoima.fi