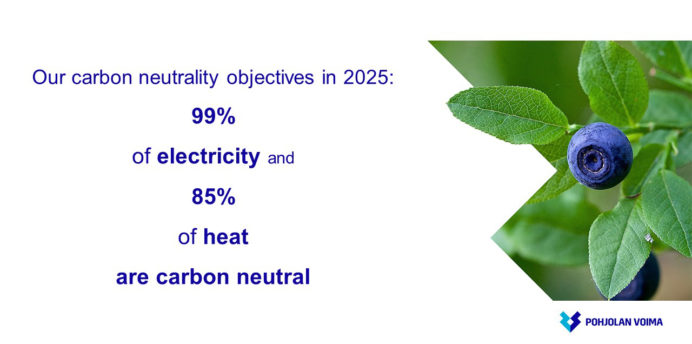 96% of Pohjolan Voima's electricity production is already CO2 neutral, and the responsibility goals set for 2020 were even exceeded. Pohjolan Voima has now set ambitious objectives: it wants electricity production to be 99% carbon neutral, and heat production 85% carbon neutral in 2025.
Pohjolan Voima's share of the electricity produced in Finland is nearly 20%. According to the latest annual report, 96% of Pohjolan Voima's electricity production is already CO2 neutral. The company has been able to reduce CO2 emissions by decreasing the combustion of coal and peat. The stack of the last coalfired power plant was demolished in Kristiinankaupunki in the autumn of 2020, and thermal power plants decreased the use of peat more than planned, based on market terms. In 2021, Pohjolan Voima has reduced the use of peat by 20% compared with the level of 2019. A good year for hydropower also contributed to achieving the set targets.
Electricity production forms in Pohjolan Voima's portfolio that are considered completely carbon neutral are hydropower and nuclear power, as well as electricity produced with wood-based fuels and recycled biofuels in thermal power plants.
Carbon neutrality targets set for 2025
Ambitious climate targets served as the starting point of Pohjolan Voima's updated responsibility programme. The bar has been further raised. Pohjolan Voima's objective for 2025 is that 99% if its electricity production and 85% of its heat production will be carbon neutral.
"We'll achieve the objective by using fossil fuels and peat as backup fuels only and by using more wood-based fuels. In addition, the OL3 plant unit of our joint venture TVO is expected to start regular electricity production in 2022," says Ilkka Tykkyläinen, CEO at Pohjolan Voima.
Furthermore, by continuously improving the energy efficiency of renewable hydropower the whole of Finland gets more regulating power. Hydropower balances the fluctuations of electricity production and helps the entire nation achieve its climate objectives.
"The benefits of responsible and domestic electricity and heat production can be widely felt in our cooperation network around Finland. Our customers, who are simultaneously our owners, find it very important that we are a responsible energy producer. This way we can support their responsible business," Tykkäläinen adds.
Sustainability approach in line with the UN's goals
Pohjolan Voima has updated its sustainability programme and adopted the UN's Sustainable Development Goals. The starting point was the three important pillars of sustainability: economic, social and environmental. In addition to these, Pohjolan Voima has updated its sustainability programme in accordance with the UN's Sustainable Development Goals. The selected goals are: affordable and clean energy (UN's Sustainable Development Goal 7), decent work and economic growth (goal 8), life on land (goal 15) as well as partnerships for the goals (goal 17).
"These goals brilliantly support our own strategically important objectives. The mitigation of climate change and social responsibility are major megatrends affecting the industry. Our duty is to contribute to our customers' competitiveness, create jobs and wellbeing in Finland, as well as promote a cleaner world. Our strategy emphasises sustainability greatly," says Ilkka Tykkyläinen.
Additional information:
Ilkka Tykkyläinen, President and CEO, Pohjolan Voima Oyj, tel. +358 40 670 6056, Ilkka.tykkylainen@pvo.fi
Riitta Larnimaa, Executive Vice President, Communications and Public Affairs, Pohjolan Voima Oyj, tel. +358 50 438 2466, riitta.larnimaa@pvo.fi