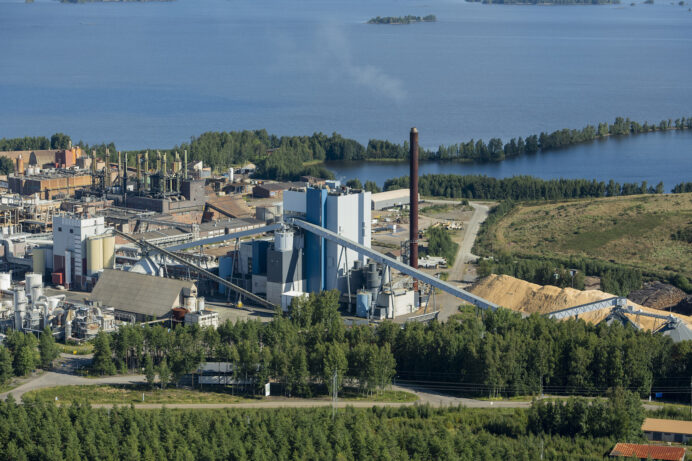 Operating in the Kaanaa industrial area in Pori, Porin Prosessivoima Oy will start the construction of a heat recovery plant in connection with its biofuel plant in the autumn of 2023. The plant will generate district heat from the flue gas waste heat of the power plant for the Pori Energia district heating network. The investment will improve energy efficiency and reduce fuel demand and emissions.
"The heat recovery plant will harness the energy contained in flue gases from biofuel. By energy-efficiently recovering the heat from the gases going into the chimney stack and using it as district heat, we can reduce the power plant's fuel consumption. This means we can completely abandon the use of peat as the power plant's fuel", explains Eero Niemitalo, the Managing Director of Porin Prosessivoima.
"In total, the resource-efficient heat recovery plant will replace 15% of Pori's current combustion-based district heat production. The need to use peak load power plants that run on fossil fuels in freezing weather will also be reduced. The plant will reduce CO2 emissions from district heat production in the Pori area by about 1,000 tonnes per year."
The new heat recovery plant will provide around 100 GWh of energy per year, which corresponds to the annual district heat consumption of some 160 blocks of flats or 5,000 detached houses.
Construction of the flue gas heat recovery plant will start in the autumn of 2023, and the plant is due to be completed in 2024. The total investment will amount to some €16.5 million.
"A new flue gas condenser, a heat exchanger for district heat, a condensate cleaning system and a chimney stack will be built. The plant is to be in full production by December 2024", says Eero Niemitalo.
The Porin Prosessivoima power plant produces district heat for Pori Energy's district heat network, as well as process heat and electricity. The main fuels of the power plant are wood-based and recycled fuels, and the plant also uses small amounts of peat, light fuel oil and liquefied natural gas. The company has been determinedly reducing its emissions by reducing the share of fossil fuels.
Additional information:
Eero Niemitalo, Managing Director, Porin Prosessivoima Oy, tel. +358 44 701 2105, eero.niemitalo@porienergia.fi 
Porin Prosessivoima Oy is a company owned by Pohjolan Voima Oyj (89%) and Pori Energia Oy (11%). The Porin Prosessivoima biofuel plant is a combined heat and power plant that produces district heat for Pori Energia, process heat for local industry, and electricity. Pori Energia is in charge of the operation and maintenance of the power plant.