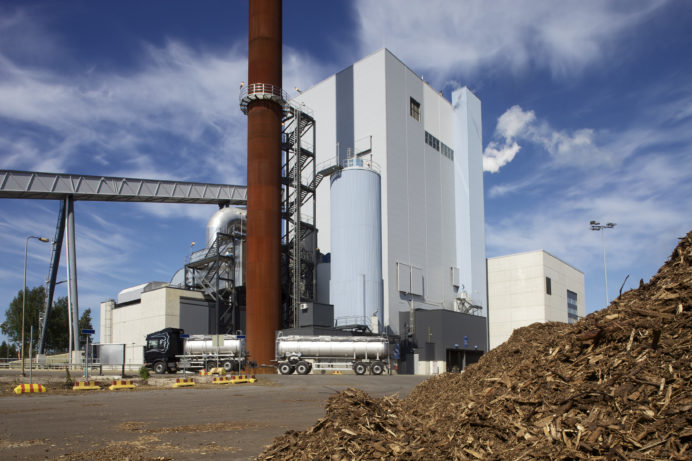 Porin Prosessivoima's power plant in Kaanaa will stop burning peat and coal within the next two years. For the people living in Pori, this means more environmentally friendly district heat. Peat will be replaced by local wood fuel.
Porin Prosessivoima Oy is abandoning peat and coal to reduce its fossil fuel emissions. Porin Prosessivoima is a subsidiary of Pohjolan Voima, and Pohjolan Voima has been decreasing the combustion of peat in all its power plants for a long time. In 2021, the company is reducing the combustion of fuel peat by 40% compared with the level of 2019. 
"In recent years, we at Porin Prosessivoima have systematically been reducing our CO2 emissions, and we have considerably decreased the use of fossil fuels," says CEO Timo Mäki.
In 2020, coal and peat accounted for 60% of the fuels used at the co-generation power plant in Pori. Last year, the share of peat dropped to 22%. The power plant no longer burned coal in 2020.
"The share of coal in our fuels has been very small since 2017. We have decided not to use the coal-fired boiler at our power plant. The boiler will be decommissioned this summer," says Timo Mäki.
Wood fuel from the surrounding areas
Porin Prosessivoima gets most of its wood-based fuels within 50 kilometres of the power plant.
"By using local wood fuel, we produce environmentally friendly energy for the Kaanaa industrial district and Pori Energia Oy's district heating network. We obtain a significant part of our wood fuels from the by-products, such as bark and sawdust, of the sawmills in the vicinity of the power plant.
The Porin Prosessivoima power plant is a combined heat and power plant. In addition to the district heat produced for Pori Energia, it also produces process heat for local industry. The power plant also produces electricity.
Pohjolan Voima's goal is to restrict the use of fossil fuels and peat for backup fuels by 2025 in all its power plants. The company's objective is that 99% of its electricity production and 85% of its heat production will be carbon neutral by 2025.
Additional information:
Timo Mäki, CEO, Porin Prosessivoima Oy, tel. +358 44 701 2170, timo.maki@porienergia.fi