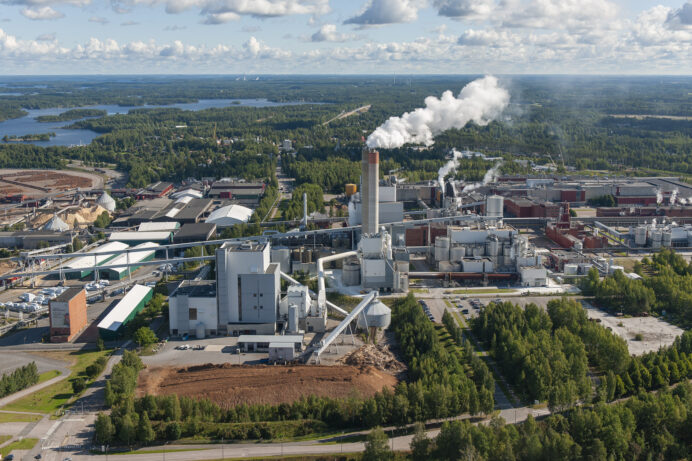 The project to reduce the plant's minimum output has been completed at the Kaukaan Voima Oy biopower plant in Lappeenranta. The reduction of the minimum output of the boiler and the turbines increases energy efficiency and the flexibility of electricity production. The project succeeded in reducing the power plant's minimum output by nearly 20 per cent.
The reduction of the minimum output was spurred by the need to increase energy efficiency and by the changes that have taken place in the electricity market. Technical assessments and the new regulation measures implemented enable controlled operation with reduced output. This has streamlined the plant's operations and enhanced its prerequisites for operating in the electricity market.
"The planned minimum output stems from the time when the plant was designed, and it no longer meets current needs. The minimum output was reduced once before, but we reached our target this time, thanks to the close and constructive cooperation between the boiler, turbine and automation experts and the local power plant's expertise," says Power Plant Manager Juha Vuolteenaho.
Kaukaan Voima is a combined heat and electricity power plant. The power plant is one of Finland's largest users of renewable wood-based fuel for energy production.
Energy efficiency and regulating capability
The reduction of the minimum output helps Kaukaan Voima decrease fuel consumption. At the same time, it reduces the plant's emissions. The current changes are part of the long-term development work carried out by Kaukaan Voima. With these measures, the power plant also seeks flexibility in its electricity production.
"The increase in weather-dependent production of electricity causes considerable fluctuations in electricity prices. The expansion of the operating areas of the boiler and the turbines improves our ability to respond to changes in the electricity market. We've succeeded in bringing the lower output ranges into active use, which provides us with significant benefits," Vuolteenaho says.
The Kaukaan Voima biopower plant produces process steam for the UPM Kaukas mill and district heat for Lappeenrannan Energia, as well as electricity for both. The power plant accounts for approximately 85 per cent of the annual district heating need of the City of Lappeenranta.
Kaukaan Voima Oy is owned by Pohjolan Voima Oyj and Lappeenrannan Energia Oy. All Pohjolan Voima's power plants are actively working to save energy.
Additional information: Juha Vuolteenaho, Power Plant Manager, Kaukaan Voima Oy, juha.vuolteenaho@pvo.fi, tel. +358 50 3143 123
The Kaukaan Voima combined heat and electricity power plant produces process steam and electricity for the UPM Kaukas mill, as well as district heat and electricity for Lappeenrannan Energia. Pohjolan Voima Oyj owns 54 per cent and Lappeenrannan Energia owns 46 per cent of Kaukaan Voima Oyj. The biopower plant is located in the UPM Kaukas mill site, and UPM Kaukas provides the power plant's operating services.
Kaukaan Voima Power Plant
Commissioned in 2009
Heat production capacity 262 MW
Electricity production capacity 125 MW