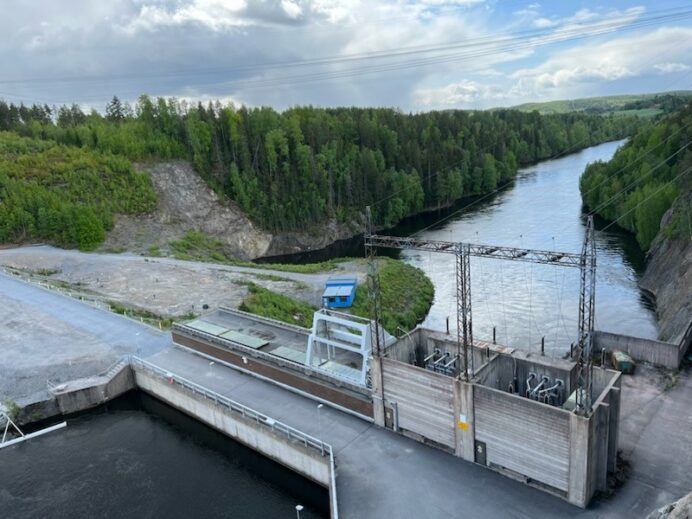 The dam bridge of the Melo hydropower plant in Nokia is once again open for bicycle and pedestrian traffic. The renovation work that closed the earth dam for a long time have ended, and the finishing work for the area after the closing of the worksite have been completed. The dam bridge can be used to cross Nokianvirta, a river belonging to the Kokemäenjoki water system, by walking or cycling. 
The watertightness of the Melo hydropower plant's earth dam was ensured through a unique bored pile wall inside the dam that was completed at the turn of the year.
"The bored pile wall reinforced the dam overall, and the dam is now in very good condition after the renovation. The innovative and challenging construction project succeeded very well in cooperation with highly skilled partners. The power plant has also been in regular production all the time", says Matti Åman, specialist from PVO-Vesivoima Oy.
Sections of the earth dam where changes had been detected were first reinforced by grouting with concrete grout and bentonitic clay. The decision on a bored pile wall was made to ensure the watertightness of the dam. A total of 4,500 square metres of new, tight wall was built for the dam. The structure, used for the first time in an earth dam, is the largest and deepest of its kind in Finland.
The renovation of the earth dam was implemented in close cooperation with the authorities supervising dams.
Additional information: Matti Åman, specialist, PVO-Vesivoima Oy, matti.aman@pvo.fi,
tel. +358 50 3038 621
The Melo hydropower plant
The Melo hydropower plant was commissioned in 1971. The power plant became the property of PVO-Vesivoima in 1994. The power plant is located on the Kokemäenjoki river in Nokia, Finland.
The capacity of the power plant is 67.9 megawatts. The plant's head of fall is 20 metres.
The total length of the dam is 123 metres. The dam has a surface area of 4,500 square metres.
The bored pile wall has a total of 193 piles, the longest of them 67 metres and the shortest 7 metres long.
The contractor was KFS Finland Oy, the engineering office was Welado Oy, the boring equipment was provided by Mincon Group and the steel piles were supplied by SSAB Ab.
PVO-Vesivoima Oy produces electricity with its hydropower plants on the Iijoki, Kemijoki and Kokemäenjoki rivers. The average total annual energy production output of the company is 1.7 TWh. The company is part of the Pohjolan Voima Group. www.pohjolanvoima.fi; Twitter: @PVOVesivoima